We noticed that customers are looking to their hot chocolates with the same critical eye they turn to their coffee beans. Their interest in origin, cocoa content and flavour profiles led to us expanding our collection, which we don't do without very good reason. We recently launched our new 100% Organic Cocoa which allows you to create the perfect hot chocolate blend (or blends) for you and your customers. It couldn't be simpler, just mix the desired ratio of cocoa and sugar, add hot milk and serve. The only problem was, if you don't mix it with Organic, Fairtrade sugar then those unique selling points are lost.
Sourcing your own and adding yet another supplier to your order list is an additional hassle no one needs. At Zuma we're here to make your life easier and have sourced our own Organic Fairtrade Sugar so you don't have to. Our golden cane sugar is grown in Paraguay, packed in the UK and is the perfect product to compliment our 100% Organic Cocoa.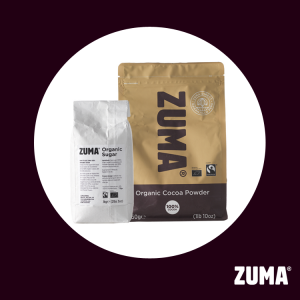 We've created a mixing guide for using our 100% Organic Cocoa and Sugar which outlines the amounts needed depending on the taste profile and cocoa percentage you are seeking. As a guide our Original Hot Chocolate is 25% cocoa, whereas our Organic Peruvian Hot Chocolate is 40% cocoa. We suggest you experiment with different quantities (maybe even go as high as 50%), to suit your palate.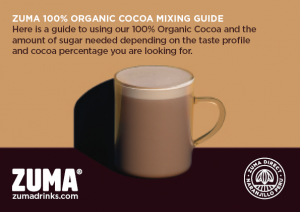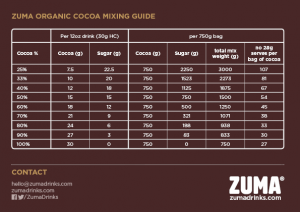 Our 100% Organic Cocoa (and our Organic Hot Chocolate) comes direct from the Naranjillo Co-operative in Tingo Maria, Peru and is both Organic and Fairtrade. The co-operative is made up of 5,000 farmers and their families, who've been up and running for over 50 years. Buying direct from the co-operative means better beans for you, and better prices, working conditions and terms of trade for them.
Like all cocoa, the beans have been fermented, dried, roasted, pressed and ground into powder. But this is where the process stops for our cocoa. Normally, the beans would be alkalised – also known as Dutched – to take out the acidity (this also gives chocolate its distinctive rich brown colour). Instead, we do nothing. This creates a natural chocolate with distinctive warm, reddish tones and a complex, malty and refined taste.
We anticipate that the demand for higher cocoa content chocolates is set to rise and Zuma 100% Organic Cocoa is the perfect product to help you deliver a tailored chocolate experience for your customers. With a cocoa so special and distinctive it seemed a shame not to hand the reins over to you to create your own perfect hot chocolate.