White chocolate contains cocoa butter, sugar and milk solids but no cocoa solids, such as cocoa powder. Milk chocolate, for example, contains about 30-40 percent cocoa solids, while dark chocolate contains a minimum of 50 percent and up to 85 percent cocoa*. So technically you could say, white chocolate is not really chocolate as we know it. Nonetheless it has a mellow, milky and comforting flavour that we call (white) chocolate.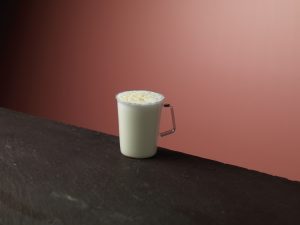 Zuma White Hot Chocolate is made with a blend of cocoa butter and milk powders, which is why it has the same flavour, colour and aroma of your favourite white chocolate bar. It's simple to make and the results are perfect every time. Just put one scoop of Zuma White Hot Chocolate into a 12oz cup and mix into a paste with a splash of hot water. Fill the cup with steamed milk, stirring as you pour, and voila, a rich, creamy white hot chocolate.
White Hot Chocolate has become an essential part of café menus in recent years and the addition of a shot of syrup can make it a premium, seasonal option. As white chocolate is sweet and creamy you can pair it with quite robust flavours without compromising the taste of the white chocolate. Try mixing in a shot of syrup when you stir the powder into a paste for best results and an even flavour throughout the drink. Chilli White Hot Chocolate is delicious any time of the year, the white chocolate sweetens and softens the chilli which adds a fiery kick at the end of each sip.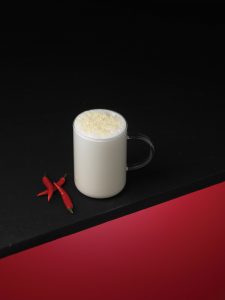 An old favourite that will be making an appearance when the summer sun begins to wane is Gingerbread White Hot Chocolate. One shot of gingerbread syrup adds a warming and spicy edge to the chocolate. We recommend serving it with a homemade gingerbread biscuit to dip and a dusting of white chocolate flakes. Salted caramel is another welcome addition in a Zuma White Hot Chocolate and, as a flavour, shows no signs of declining in popularity.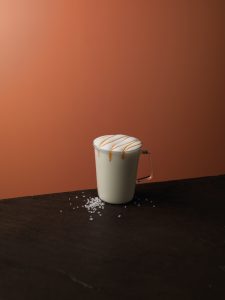 Remember when you are offering premium drinks, simply writing 'add a shot for 50p' on your menus won't drive up sales. Decide on a new menu item, give it a name and price appropriately, customers like to be guided rather than left to create their own chocolate from a list of ingredients. Remember to refer to the support section of this website for inspiration on all our products, all year round.
*source – http://www.livestrong.com/article/368816-is-white-chocolate-healthy/