November is Vegan Month and begins with World Vegan Day, so it seemed like the perfect time to consider the perks and pitfalls of plant based milks to compliment our vegan products. Even if you aren't vegan, plenty of your customers will be and will appreciate a barista who knows what they want.
You may not have realised that a considerable amount of Zuma Drinks products are registered as suitable for vegetarians and vegans by The Vegan Society. Zuma Original, Dark, Organic, Fairtrade and Thick Hot Chocolates are all vegan as is the new 100% Organic Cocoa. You can even add a finishing touch to your drinks with Zuma Gold Dust without compromising its vegan-friendliness. That's all well and good but can you confidently prepare them as a vegan beverage when a hot chocolate calls for milk? This might all seem painfully obvious to a vegan, but not every barista serving up drinks is a mylk aficionado, but there's no reason they can't be.
So what is mylk? Originally it was a medieval spelling of milk, but more commonly nowadays the word is used to describe non-dairy milk products. With more and more people choosing to become vegan, and lactose intolerances and allergies on the rise, there are plenty of mylks to choose from and each have their own strengths and weaknesses. We have a few solid favourites which are the perfect match for hot chocolates. It all eventually comes down to personal preference but they are a good place to start.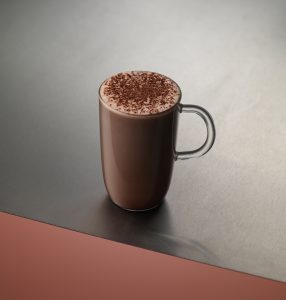 The first one that springs to mind is soy mylk. It's an excellent substitute for lactose milk especially if you customer is nutritionally minded as it has a similar profile to cow's milk. Soy milk also steams very well, it's comparable to cow's milk which means a barista can use it without having to change technique too much. Soy milk is a really great place to start if your new to the world of mylk and if you don't already stock it as standard you should consider getting it in asap. Just keep an eye out if it has been sweetened as that will have an effect on flavour when using it with your coffee drinks.
As taste and nutritional trends changed, almond mylk became the second go-to mylk. In terms of steaming it's not quite as similar to cow's milk and takes a bit of getting used to, you certainly don't want to burn it! But when steamed well almond mylk adds a hint of nuttiness to a drink which is to die for in a Zuma Fairtrade Dark Hot Chocolate. If you enjoy almond mylk, then definitely give hazelnut milk a try as well. We like them in dark chocolates as the nuttiness of the mylk compliments the more bitter tones of higher cocoa content chocolates such as Zuma Organic Hot Chocolate and Zuma Dark Hot Chocolate.
More recent to the mainstream mylk scene is oat milk. Flavour wise, think of that tasty layer of milk that sits on top of your breakfast porridge and you're not far off. It steams well and has enough weight to hold a bit of latte art as well. It's silky texture is perfect with a Zuma Original Hot Chocolate for a velvety mouthfeel. It's has an unmistakable maltiness to it as well which adds those roasted and caramel notes to any drink.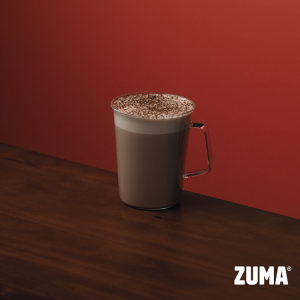 Topping our list for November is cashew mylk. It's so creamy you could be fooled into thinking you've been given the wrong drink! There is a slight sweetness to it and a fairly neutral flavour. Even better, cashew milk is a doddle to make if you are put off by overpriced tetra pack options, all you need is cashews and water. For ultimate indulgence we suggest enjoying with Zuma Thick Hot Chocolate. It's like a winter hug in a mug without compromising on flavour.
So consider branching out this month and revisiting the vegan choices on your menu. Think about how the flavours in mylks can add to your beverages rather than considering them a necessity for a niche market. You could even dedicate a menu board to some new concoctions or letting all your customers know about the tasty benefits of each one. Let us know how you get on and share you recipes with us on Facebook, Twitter and Instagram.
Most importantly…