It's nearly Halloween and time for menus to change to reflect the season. We decided to take time out to have a fact find about Halloween. We created a simple guide to help you add a seasonal flourish to your drinks with Zuma Dark Chocolate Sauce. Customers appreciated the little touches, and with Halloween just around the corner, try adding a spooky cobweb to your regular mochas and hot chocolates to make them feel special.
All you need is Zuma Dark Chocolate Sauce and something with a point such as a thermometer, stirrer or knife. Don't be too concerned with making the consecutive circles to neat, once you pull the edges of the cobweb out it will start to look the part. To download the guide just follow this link.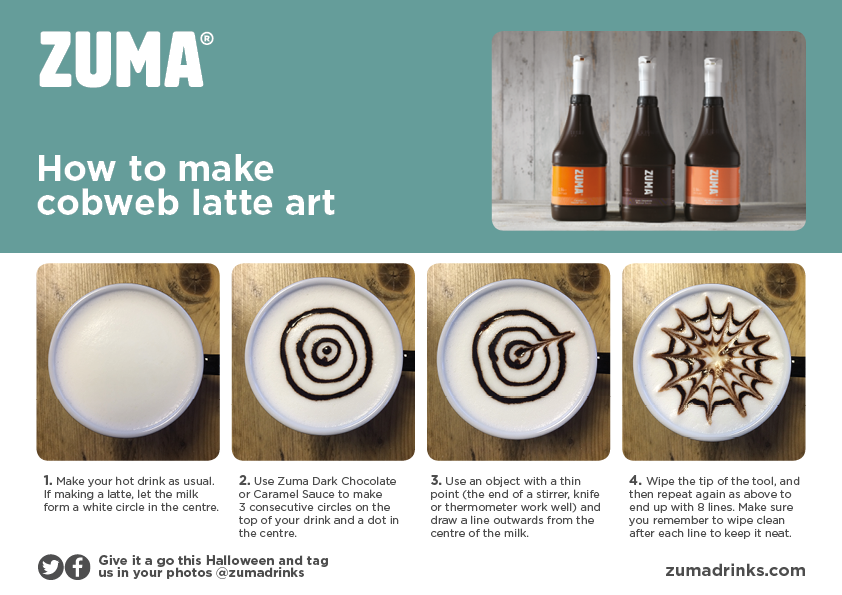 And here are four bonus Halloween facts to get you into the holiday spirit:
Did you know that Ireland is believed to be the birthplace of Halloween?
In Mexico during the Autumn, countless numbers of Monarch butterflies return to the shelter of Mexico's oyamel fir trees. It was the belief of the Aztecs that these butterflies bore the spirits of dead ancestors.
In Germany, the people put away their knives on Halloween night. The reason for this is because they do not want to risk harm befalling the returning spirits.
Unlike most nations of the world, Halloween is not celebrated by the French in order to honor the dead and departed ancestors. It is regarded as an "American" holiday in France and was virtually unknown in the country until around 1996.