Just in time for autumn/winter menu changes we have launched a brand-new Organic Beetroot powder that will add a striking colour and flavour to any drink.
With its rich earthy flavour and vibrant hue, our newest adaptogen is incredibly versatile allowing you to mix it into many recipes with countless flavours. Add to steamed milk for an impressive beetroot latte, or create red velvet hot chocolates, smoothies, frappés and even red velvet cakes.
Containing nothing but pure organic beetroot, we have dehydrated and ground whole beetroots to achieve an unadulterated product that is approved by The Vegan Society.
Believed to boost immunity, endurance and stamina as well as increase energy levels, beetroot's health benefits only add to the charm of this distinctive root vegetable. The organic grade of our powder ensures authenticity and natural goodness you can use with confidence. Perfect for use with milk alternatives, you can create a whole host of vegan drinks.
Squeezing 24g of fresh beetroot into each concentrated 3g portion (needed to make a 12oz drink) we have provided a convenient, hassle-free way to add beetroot to your drinks menu. Available in 100g pouches, each pack provides 33 servings.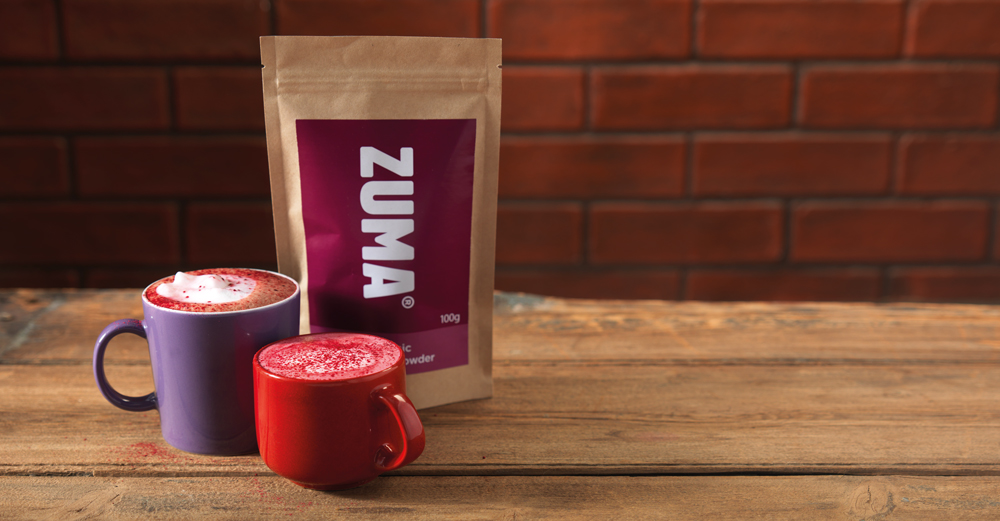 Here are a few recipes to get your started;
Bakewell Tart Iced Latte 
1 mini scoop Zuma Organic Beetroot powder
1 pump Sweetbird Sugar-free Vanilla syrup
1 shot espresso (optional)
Ice
Almond milk
Combine beetroot, syrup and splash of hot water (or espresso) in a cup
Pour into cocktail shaker, with ice cubes
Add 200ml of almond milk
Pour into cup to serve and top with fresh ice cubes
Breakfast Beet Frappé 
Ice
Oat milk
1 scoop Sweetbird Yogurt frappè
1 mini scoop Zuma Organic Beetroot powder
1 pump Sweetbird Banana purée
Fill cup with ice
Top up with milk (to 1 cm below top)
Pour into blender jar, add frappé, beetroot powder and purée
Place the lid on tightly and blend until smooth
Red Velvet Hot Chocolate
1 scoop Zuma Fairtrade Dark hot chocolate
1 mini scoop Zuma Organic Beetroot powder
Steamed milk
Combine hot chocolate and beetroot in a cup
Add a splash of hot water and mix into a smooth paste
Add steamed milk, stirring as you pour
Beetroot Latte
1 mini scoop Zuma Organic Beetroot powder
1 pump Sweetbird Sugar-free Vanilla syrup
1 shot espresso (optional)
Oat milk
Combine beetroot, syrup and espresso in a cup
Mix into a smooth paste
Top with steamed oat milk, stirring as you pour